The Todd Thompson Volunteer of the Year Award is presented annually to an outstanding local volunteer who's individual commitment to helping others exemplifies the tradition and spirit of caring.  
The award recognizes:
Distinguished volunteer service to the community.

United Way participation and service.

Sustained and prolonged service to helping others.
Todd Thompson: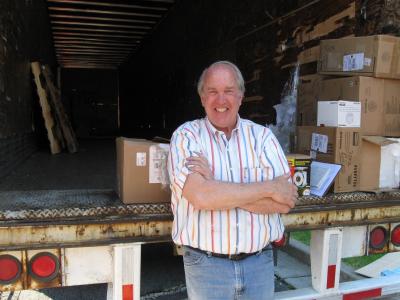 In 2021, United Way NSV renamed the Volunteer of the Year award after the passing of long time volunteer and friend to the organization Todd Thompson. Todd served as a United Way volunteer for over 20 years, selflessly running the Rubbermaid sales with passion. In Todd's tenure overseeing the Rubbermaid sales, it's estimated he raised over $2 million dollars for community organizations. Todd not only served as a United Way volunteer but has countless accolades within the community as a true community helper and advocate. Todd's dedication to service is what we should all strive to achieve. 
"I could not think of a more deserving person than Todd to name our Volunteer of the Year award after. He has been a leader and advocate of our United Way for years, exceedingly dedicated and giving, always keeping us and our community a priority. We will miss him dearly and will think of him every year when we say his name, awarding this honor in his memory," said Nadine Pottinga, CEO or United Way of Northern Shenandoah Valley. 
Todd Thompson Volunteer of the Year for 2022:
Jay Rudolph
Jay is currently the Vice President, Human Resources for the Trex Company Inc. headquartered in Winchester, Virginia.  He first joined the Trex team in October 2006 where he served as an Employee Relations Manager supporting their sales division. His career has grown in conjunction with the organization itself, and he has led the companywide human resources function since 2009 during which time both revenue and headcount have quadrupled. His experience prior to joining Trex includes various human resources roles of progressing responsibility with Federal Mogul in Michigan City, Indiana; Staples Mid-Atlantic Distribution Center in Hagerstown, Maryland; and Perry Judd's in Strasburg, Virginia. Jay holds a bachelor's degree in business administration and a master's degree in industrial relations with a focus on negotiations and conflict resolution, both from West Virginia University. 
Though Trex and the United Way of the Northern Shenandoah Valley have enjoyed a partnership that spans more than two decades, Jay began to take an active role in 2008. He spent many years as a member of the UWNSV Board of Directors, which ultimately led to his becoming the 2018 Campaign Chair. That year Trex eclipsed the $200k mark in its annual drive. Jay also served as the 2019 Chairman of the Board.
 
Past recipients include:
2021   Mark Merrill 
2020   Scott C. Harvard
2019   Darcus Breneman
2018   Dr. Cheryl Thompson-Stacy
2017   Dr. David Sovine
2016   Dick & Darlene Kent
2015   Dennis Kellison
2014   Kurt Beyreis
2013   Diane & Terry Sinclair
2012   Terry Tierney
2011   Judy Paige-Grim
2010   John Hudson
2009   Todd Thompson
2008   Byron Brill
2007   Harry Smith
2006   Wendell Dick
2005   Kim Stutzman
2004   Tom Malcolm
2003   Mary & Bill Nordman
2002   Jim Stutzman, Jr.
2001   Betty Barr
2000   Bruce Downing, Esq
1999   Bill Huntsberry
1998   Jack Fretwell
1997   Bill Buckner
1996   Barry Lee Bowser
1995   Brookie Phillips
1994   Don Louque