Thank You Board Members!
Our board of directors is responsible for making sure United Way is on the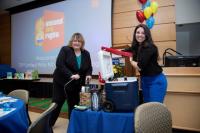 right track. They meet monthly to discuss strategic issues facing the organization. The board holds United Way's senior staff responsible for carrying out our mission. They ensure that United Way is an organization you can trust. The board is composed of community leaders from throughout the Northern Shenandoah Valley.
If you are a current board member and need access to the secure board login page click here. 
2023-2024 Board of Directors
Officers
Dr. Damon DeArment
Shenandoah Valley Orthodontics
Board Chair
Dr. Yolanda Barbier Gibson      
Shenandoah University
1st Vice Chair
Beth Falu
Navy Federal Credit Union
Secretary
Jenny Piasecki            
Yount, Hyde & Barbour PC
Treasurer
Kurt Beyreis           
Valued Community Member
Assistant Treasurer
 
Board Members
Dr. Kim Blosser                    
Laurel Ridge Community College
Joe Czachowski          
Valued Community Member
Amanda Kindall                    
Element Risk Management
Heather Clatterbuck                                                                     
United Bank
Dr. Jeffrey Feit
Valley Health System
Tammy Landes 
Shenandoah Memorial Hospital, Valley Health
Janet Michael
The River 95.3
Diana Patterson
DSP Services, Inc.
Stephen Jerome
Associate Attorney
Amy K. Slaughter
Harrison & Johnston, PLC
Seth T. Thatcher                       
Frederick County, VA 
Barry Creek
Trex
Tracie Dickson
Truist
Erika Cordero           
Continental
Candace Davenport            
First Bank
Darcus Breneman            
First Bank