Small businesses play a critical role in maintaining a thriving local economy. Our 365 Small Business Circle members are an important, growing family of donors, who are vital to helping us meet the needs of our community. You can learn more about our 365 Small Business Circle HERE.
SMALL BUSINESS SPOTLIGHT - WINCHESTER BREW WORKS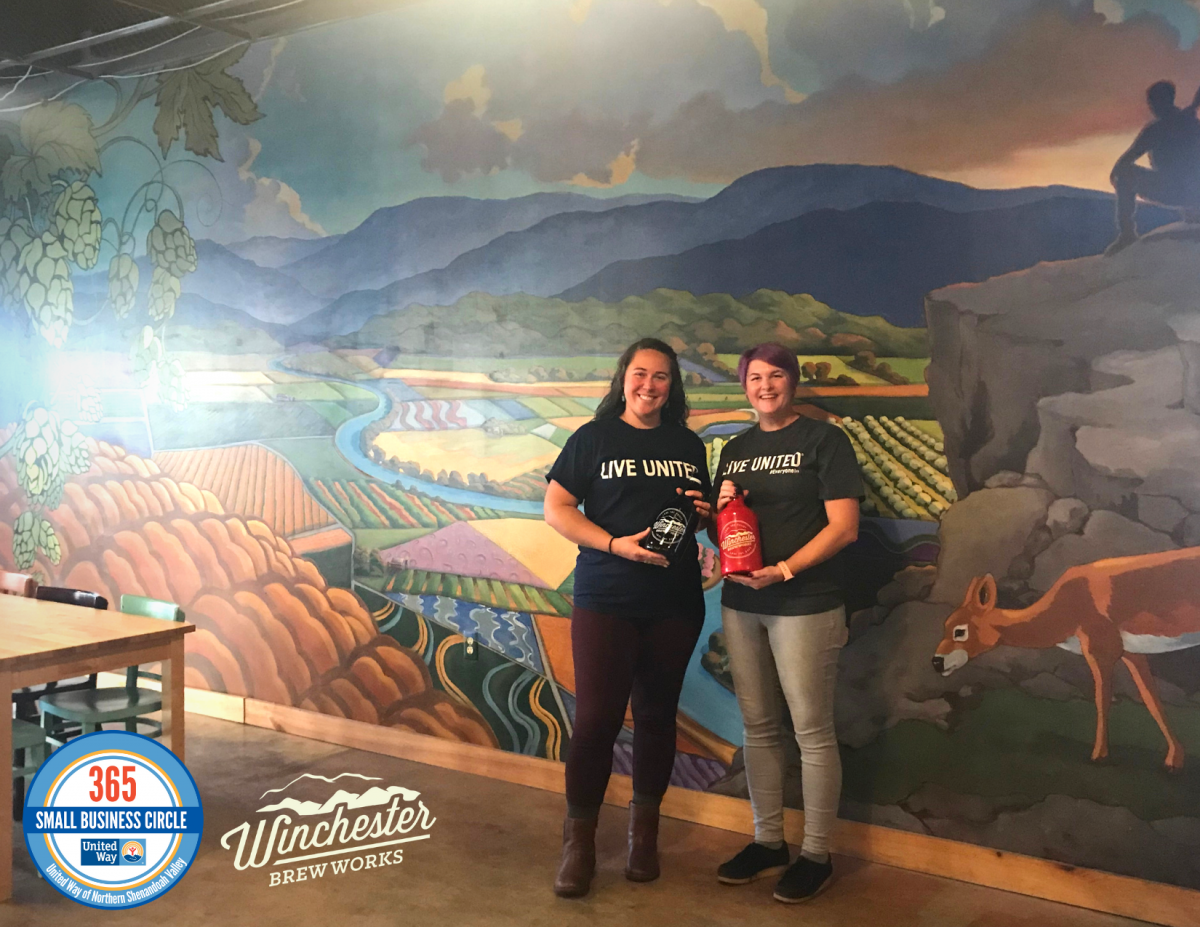 Winchester Brew Works Owners Bonnie Landy and Holly Redding pose in front of the original mural, 
painted by Bonnie's mother, located inside their brewery.
Tell us about your business; and what is your business philosophy?
We are a nano-brewery owned and operated by two women. We love creating new and fun flavors for our products like the Key Lime Shandy or Peanut Butter Porter, but what we really love is planning exciting and different events to bring out the community. Our business philosophy is truly that what you give to your community, they'll give back to you tenfold. Because people can always count on us to have a fun event planned, a great beer release, an engaging fundraiser, etc., they keep coming back and supporting us. Plus they usually bring a few new friends to check us out along the way.
Why are you passionate about working with United Way?
We are passionate about working with United Way because they know best who in our community needs help. There are so many deserving organizations in this area in need of financial assistance that it can be overwhelming to know where to start. United Way has already done the research to make the biggest impacts where it's needed most. We also love the folks who put in the hours at United Way. Organizing fundraising events with them is always a dream. They are so organized and efficient that it really takes a load off our already busy lives.
What is something interesting or surprising that most people don't know about you?
The two owners, Holly and Bonnie had three babies in three years WHILE operating the brewery. Holly had her first baby in February 2016, our soft open was March 2016, Bonnie had a baby in August 2018 and Holly had her second in April 2019! We were somehow able to keep everything together!
What would your older self say to your younger self?
Don't try to plan your life too far in advance! You never know what's going to happen!
What's your favorite quote?
"Women are always saying, 'We can do anything that men can do.' But men should be saying, 'We can do anything that women can do.'" - Gloria Steinem
---
To learn more about Winchester Brew Works, CLICK HERE.
To learn more about our 365 Small Business Circle, CLICK HERE.